Ground Floor - Rent - Bingen
Hochwertige 4-Zimmer Wohnung in ruhiger Lage
Property type
Ground floor
Type of commercialization
Rent
Number of floors (in the property)
3
Beschreibung:
Sie sind auf der Suche nach einer stilvollen, komfortablen und zeitgemäß ausgestatteten Wohnung? Dann wird Sie diese exklusive 4 Zimmer Wohnung mit Sicherheit begeistern!

Im Erdgeschoss eines ruhigen 4 Parteienhauses, aus dem Baujahr 2019, befinden sich Ihre neuen vier Wände. Dieser hochwertige Neubau hält alles für Sie bereit, was für einen angenehmen und bequemen Alltag dazugehört und ist außerdem barrierefrei.

Treten Sie ein!

123 m² Wohnfläche sind, durch einen praktischen Grundriss, raffiniert aufgeteilt und optimal nutzbar.
Die Wohn- und Essküche ist das Herzstück der Wohnung und heißt Sie in Zukunft jeden Tag mit einem freundlichen und offenen Ambiente willkommen. Hier können Sie es sich gemütlich machen, ankommen und loslassen. Durch bodentiefe Fenster haben Sie hier auch an düsteren Wintertagen genügend Tageslicht. Mit dem Zugang zum Balkon ist Ihnen in dieser Wohnung sogar ein gemütliches Plätzchen an der Sonne gesichert!

Das Raumprogramm beinhaltet noch 3 weitere Zimmer, ein wunderschönes Badezimmer mit einer großzügigen bodengleichen Dusche, ein Gäste WC und einen Kellerraum. Die Räumlichkeiten bieten Ihnen noch weitere Annehmlichkeiten, wie z.B. eine Fußbodenheizung für wohlige Wärme in der kalten Jahreszeit, sowie elektrische Jalousien.

Außerdem haben Sie die Möglichkeit, gegen einen Aufpreis von 90 Euro im Monat einen privaten Stellplatz in der Tiefgarage zu mieten. Von dort aus führt Sie ein Aufzug ganz bequem zu Ihrer Wohnung.
Klingt das nach dem Komfort den Sie suchen?

Dann kontaktieren Sie uns jetzt!

Weihnachtsferien: Wir gehen an Land vom 23.12.21 bis zum 03.01.22
2021 war für alle ein stürmisches Jahr. Vom 23. Dezember bis zum 03. Januar genießt unsere ganze Immobilienlotsen Crew darum einen weihnachtlichen Landurlaub und unser Büro bleibt geschlossen. Ab Montag, dem 3. Januar 2022 heißt es dann wieder: Volle Kraft voraus.
Wir wünschen ihnen harmonische Festtage und einen angenehmen Rutsch ins neue Jahr!
Lagebeschreibung:
7.400 Einwohnern ist es flächenmäßig der größte Stadtteil von Bingen und der mit der zweithöchsten Bevölkerung.

Eine umfassende Infrastruktur bietet alle Einkaufsmöglichkeiten für den täglichen Bedarf. Auch 1 Grundschule, 2 Realschulen Plus (davon eine mit Oberstufe), 1 Förderschule und 3 Kindergärten sowie der Neubau der TH Bingen sind hier angesiedelt.

Büdesheim liegt verkehrsgünstig am Autobahndreieck Nahetal, das die A 60, von Mainz kommend, mit der A 61 verbindet, welche nach Ludwigshafen und Koblenz verläuft. Außerdem verlaufen die B 9, sowie die L 417, die nach Sponsheim führt, durch Büdesheim. Büdesheim liegt genau mittig zwischen den beiden Flughäfen Frankfurt am Main (FRA) und Frankfurt-Hahn (HHN) zu denen es jeweils 57 km entfernt ist.

Quelle:www.wikipedia.de
Energieausweis:
Year of construction:

2018

Final energy demand:

24,5 kWh/(m²*a)

Energy pass (for Buildings):

According to construction

Energy pass valid until:

12.09.2027

Main fuel type:

Wind / Water heat pump

Year of construction according energy pass:

2018
Ausstattungsbeschreibung:
4-Zimmer Wohnung
Erdgeschoss
ca. 124 m² Wohnfläche
Wohn-/ Esszimmer mit offener Küche, 3 Schlafzimmer, Badezimmer mit bodengleicher Dusche, Gäste-WC
Balkon, Kellerraum

Garage - 90,- € / Monat - von der Tiefgarage gelangt man mit dem Aufzug ins Erdgeschoss

behindertengerechter Zugang zu Haus und Wohnung
Fußbodenheizung
Fliesen in Holzoptik
elektrische Jalousien
abschließbare Fenstergriffe
Sonstige Angaben:
monatliche Kaltmiete: 1.350,00 €
Nebenkostenvorauszahlung 250,00 € (inkl. Heizkosten)
Kaution: 4.050,00 € (3 Monatskaltmieten)
Staffelmiete: Kaltmiete ab dem 01.03.2023: 1.400,00 € und ab dem 01.03.2026: 1.450,- €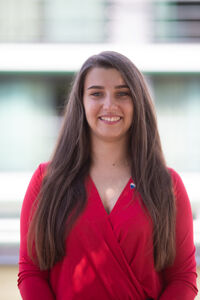 Nancy Spiolek
RE/MAX Immobilienlotsen Peltzer-Immobilien GmbH
+49 6721 15483-16
Sie wollen mehr erfahren?
Wenn Sie uns eine Nachricht über das Kontaktformular senden, melden wir uns schnellstmöglich bei Ihnen: